Area Activity Guide: MESS-tival 2019
A Silly, Slimy Spring Break Tradition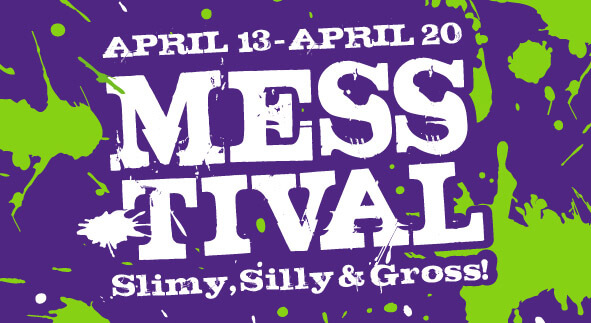 Can you believe it's time for Spring break already?! It's fortunate for local parents that Rochester Museum & Science Center holds an annual event where kids can work out their energy, curiosity, and imagination at the height of cabin fever. MESS-tival is an opportunity to let your little scientists get their hands dirty playing with stuff you'd rather not have all over your house. And it happens in a safe, controlled, and — best of all — educational environment. These messes are made in the name of science, with experts on hand to guide experiments and explain the madness behind the mess. In addition to hands-on activities, there's a schedule of exciting shows spanning the whole day. It's all happening daily from 11 am to 3 pm, April 13-20, 2019.
MESS-tival activities are included with regular RMSC admission.
Kids will celebrate mess-making as they:
Go intergalactic with Galaxy Floam Slime
Get (not so very) messy with rainbow clean mud
Explore oobleck
Express themselves with exploding paint
Experiment with Geometric Bubbles
There are also exciting shows, including:
Plus, those who attend on April 20th will get to witness the more clutter-focused MESS-tival finale featuring Domino Toppling and a Workshop with "Domino Dynamo" Chris Wright.
The Finale of Sound Sense
And while you're at the Rochester Museum & Science Center, don't miss your last chance to tour the Sound Sense exhibit, which closes April 21st. It's an opportunity to explore the nature of sound and how we sense it, dive into the science and art behind the phenomenon of sound, and discover how humans manipulate the compression of air molecules we call sound to create music.