Recipe Spotlight: Pumpkin – How Do You Roll?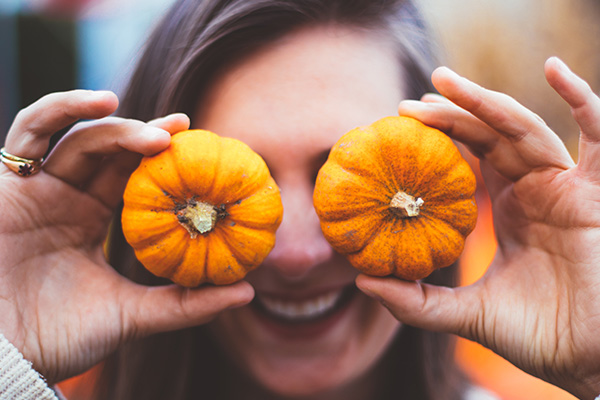 Lock Down your Pumpkin Game
How many years have you made your way through holiday gatherings without a pumpkin creation you can be proud of? We're here to help you finally find that go-to recipe for all your Fall family functions. This year, we're turning to the original source of all things Upstate New York cooking, Applehood & Motherpie. If you don't know it and plan to spend much of your life in Rochester, you'd be well served by getting your hands on a copy of this bright green regional cooking handbook. A product of the Junior League of Rochester, it will help you understand much more about local culture, even if you've lived here all your life.
On to the Recipes
Since everyone and their brother-in-law are going to bring a pumpkin pie, it's good to opt for an outlier. These recipes for Pumpkin Bars and Pumpkin Roll are both quick, delicious, and easy to make. Both, however, require the use of a jelly roll pan. If you don't have one laying around, be sure to borrow one from your mom, favorite aunt, or local thrift store before embarking on the baking. With that squared away, you can stop worrying about your potluck contribution and get out and enjoy other Fall fun — like apple picking, pumpkin patches, and football games.
Pumpkin Bars
Makes 2 dozen
Bar Ingredients
4 eggs
1 2/3 cups sugar
1 cup cooking oil
1 16-oz can pumpkin
2 cups flour
2 tsp baking powder
2 tsp cinnamon
1 tsp salt
1 tsp baking soda
Bar Instructions
Beat eggs, sugar, oil, and pumpkin in a bowl until light and fluffy.
Combine flour, baking powder, cinnamon, salt, and baking soda. Mix into pumpkin mixture.
Spread batter in an ungreased 15 x 10 x 1-inch jelly roll pan.
Bake for 25 minutes at 350 degrees, then cool and frost.
Frosting Ingredients
1 3-ounce package softened cream cheese
1/2 cup margarine, softened
1 tsp vanilla
2 cups sifted confectioners sugar
Frosting Instructions
Combine cream cheese and margarine.
Stir in vanilla.
Slowly add sugar, beating until smooth.
Frost cooled bars.
Contributed to Applehood & Motherpie by Cecy R. Szuba. 
Pumpkin Roll
Makes 10 to 12 servings
Cake Ingredients
3 eggs
1 cup sugar
3/4 cup flour
1 tsp baking powder
2 tsp cinnamon
1 tsp ground ginger
1/2 tsp nutmeg
1/2 tsp salt
2/3 cup pumpkin (cooked or canned)
1 tsp lemon juice
1 cup walnuts (finely chopped)
confectioners sugar
Icing Ingredients
1 cup confectioners sugar
2 3-ounce packages cream cheese
4 tbsp butter
1/2 tsp vanilla
Cake Instructions
Beat eggs at high speed for 5 minutes. Gradually beat in sugar. Set aside.
Mix flour, baking powder, cinnamon, nutmeg, and salt together. Set aside.
Combine pumpkin and lemon juice. Gently stir in flour mixture.
Fold pumpkin mixture into beaten egg mixture. Pour into a greased and floured 10 1/2 x 15 1/2 x 1-inch jelly roll pan. Sprinkle with walnuts and bake at 375 degrees for 15 minutes.
Sprinkle confectioners sugar on a clean towel. When cake is done, invert it on the towel. Gently roll the towel and cake lengthwise. Allow to cool completely while you prepare the filling.
Icing Instructions
Combine icing ingredients. Beat until smooth and spreadable.
Unroll cooled cake and spread with filling. Roll again. Place seam-side down on a serving dish. Trim ends. Serve in 1-inch slices.
Contributed to Applehood & Motherpie by Karen Pellett.