5 Great Gift Wrapping Ideas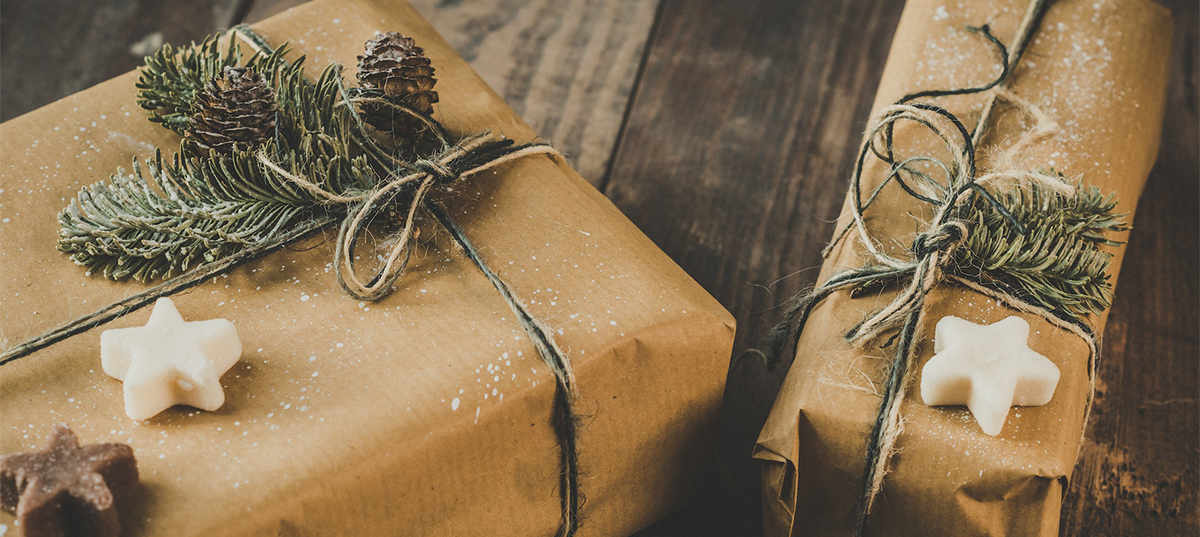 December 2022
If you're giving anyone a present this holiday season, chances are that you'll wrap it in some way. While you may think of gift wrapping as just a temporary way to hide the surprise of what's inside, it can be much more. Anything you do to "garnish" your gift will make the person you're giving it to feel more special. A beautifully wrapped gift creates anticipation and adds a personal touch. Here are five ways to step up your gift wrapping game.
Brown Paper + Unique Accents
Usually, it's the paper that's the focal point. But consider going in the opposite direction and wrapping a gift in plain brown (packaging) paper. Tie it up with baker's twine, jute, or ribbon. Then get creative with the add-ons. Small ornaments or toys, faux florals or greenery, or a glittering wired bow are all great options. Take this approach and your gift will stand out across a mountain of traditionally wrapped presents.
Fabric Wrapping
You don't need to use paper to wrap a gift. Consider a beautiful piece of fabric from a sewing store. This works especially well if your gift is an odd shape that would be challenging to wrap in paper. Even better, wrap your gift in a scarf or small blanket. Then the wrapping itself becomes an additional gift that can be enjoyed over time.
Beyond the Bow
We don't have anything against bows, but there are plenty of other ways to dress up your giftwrapping. Try using faux greenery or flowers – or even the real thing. Add some jingle bells. Print out small photos that are meaningful to you and the recipient and glue them on your gift. Replace ribbon with Washi tape in colorful patterns. Try large pom poms instead of bows. And if your gift is for someone with a sweet tooth, swap the bow for candy canes, chocolate, or their favorite candy bar.
Set a Theme
Choose wrapping materials that match the theme of your gift. Is it a game, toy, or something fun? Wrap it in the color comics from the Sunday paper. Are you giving someone merchandise from their favorite sports team? Wrap it in the team colors. Using a theme will give a subtle clue as to what's inside and build anticipation.
Get the Glue Gun
Choose a plain or subtly patterned gift wrap and then glue on sparkly gems or other decorative bits from a craft store. Use buttons, pom poms, or anything glittery. Check out the scrapbooking section of your craft store for ideas and supplies. And while you have the glue gun out, you can use hot glue to hold down your wrapping paper and go tape free.