Area Activity Guide: Block Party on East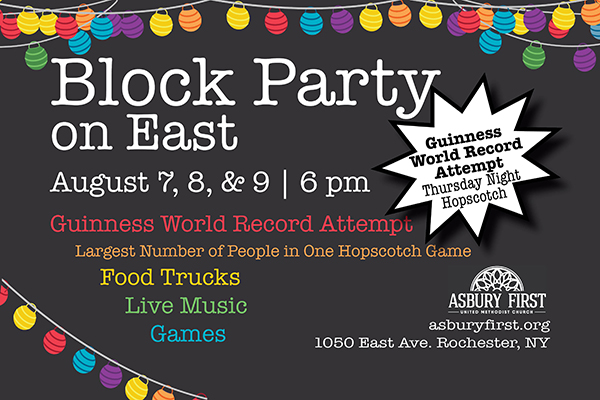 It's Time to Come Together!
Asbury First United Methodist Church is throwing a block party for the whole city of Rochester. Festivities begin at 6 pm each night August 7th, 8th, and 9th, and will be full of activities designed to bring people together. The hope is that, by coming together in friendliness and fun, people can remember more about what unites us than about what drives us apart. Each night has a different theme and/or highlight, and you can expect live music, food trucks, and fun for all ages whichever evening you drop by.
Tuesday, August 7 – Goat Yoga
Tuesday's block party is a celebration of the '60s and '70s, and visitors are invited to dress in their retro best. HikYoga will host two free GOAT YOGA sessions on the lawn starting at 6 and 7 pm. Ernest and Gertrude, two very friendly Nigerian Dwarf Goats (arguably the best goat breed) will help you nail your poses and very likely inspire a laugh. Bring your water bottles and yoga mats, and make sure to sign up in advance (6 pm session) and (7 pm session).
Wednesday, August 8 – Escape Room
In a complete departure from goat yoga, Wednesday's highlight will be an opportunity to try an escape room. You'll have 15 minutes to find your way out of prison! Dig up your favorite fashions from the '80s and '90s, and be sure to sign up for the hair contest if you've perfected a "big" or "grunge" hairstyle.
Thursday, August 9 – Hopscotch Record-Break Attempt
Thursday's game of Hopscotch will be one for the record books — literally. This won't be Asbury's first attempt to break a Guinness World Record, but it will be the biggest. To achieve the goal of the largest number of people in a single hopscotch game, at least 650 hoppers will need to be present and ready to play. To be part of this epic #hoptheroc attempt, sign up on Eventbrite.