Area Activity Guide: Park Ave Fest 2018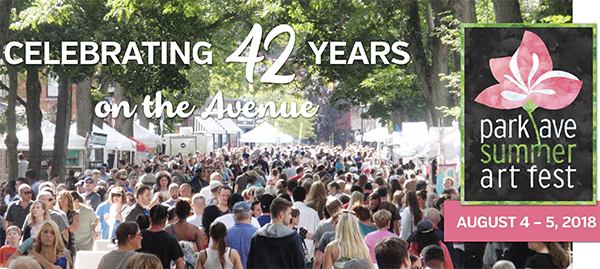 A Family Festival
If you don't already know, it's time to add this one to your calendar and hit "Repeat". The Park Ave Summer Art Fest is an annual tradition kicking off the first full weekend in August, bringing people from all over the region to enjoy Rochester's remarkable Park Avenue neighborhood. One of the features that sets this family favorite apart from other events in "Festival City USA" is its designation as an alcohol-free festival. Though neighboring pubs will surely be welcoming revelers, the festival itself is a family-friendly affair.
Authentic Artistry
Come August 3rd, more than 350 artists, craftspeople, and exhibitors from 22 states and Canada will descend upon the Park Avenue neighborhood, transforming a 1-and-¼-mile tree-lined stretch into the 42nd edition of the Park Ave Summer Art Fest. Today, the festival attracts more than 250,000 visitors to what has become the biggest celebration of art, food, music, and community in Western New York. A large part of its success is attributed to the careful selection of artists. Expect no cookie-cutter-kitsch on Park Avenue. A juried process decides the artists on display, and artists must be the hands-on makers of their wares. Work is represented in 14 categories including jewelry, woodworking, metalwork, ceramics and fiber artists.
Socialize, Savor & Shop
Taking in thousands of beautiful works of art can be tiring, so be sure to take a break to socialize with neighbors and grab a bite to eat. Arguably the best part of any festival is the food, and the Park Ave Fest delivers! More than 40 different festival favorites and specialties complement the many bistros, cafes, bakeries, and coffee houses in the neighborhood. Three entertainment stages will feature musicians, dancers, and performers throughout the weekend. There's plenty of room for viewing, socializing, eating, and – of course – shopping for one-of-a-kind items from one end of the festival to the other.
New for 2018 – The Kids Park!
You can expect more family fun and activities in 2018! Located in the shady tree-lined park on the Park Avenue side of the Rochester Museum & Science Center Center, families can stop by for food (Mark's Pizzeria and Dippin' Dots), bounce houses, Bristol Mountain Aerial Adventures, games, crafts, and dancing. Live entertainment can be enjoyed on the Kids Stage starting at noon both days of the festival. Check out the schedule here.
Essential Info
Did we mention that Park Ave Fest is free? It's worth noting. The 42nd Annual Park Ave Summer Art Fest is being held on Saturday, August 4, from 10:00 am to 6:00 pm and Sunday, August 5, from 10:00 am to 5:00 pm. Shuttle service is available from the ample parking area at Gleason Works on University Avenue. Be kind to your pets – leave them at home when you visit the Festival. Check out the Festival Guide here and be sure to follow along on Facebook.