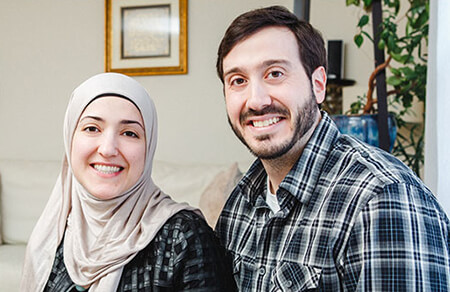 We've been in our 2-bedroom townhouse at Elmwood Manor for about a year. After five years in an apartment, we wanted to stay in Brighton, but we needed more space.
Greenlight internet is one of the very nice perks. The speed is amazing, and it's available for free. The staff has been very responsive, particularly the maintenance team. And we love that it's such a quiet neighborhood, with lots of young professionals, where everyone is respectful.
We love the layout of our home. The open floor plan on the first floor, especially the breakfast bar, is great for cooking while entertaining guests. The patio gives us the opportunity to spend time outside when the weather is nice. And we love the separate sink and vanity area in the master bathroom as well as the walk-in closet.
Our location is perfect because we have two family businesses nearby, and we both work at local hospitals. Strong is right up the street, and Rochester General is just a quick trip on the highway. Being close to the UR gym, Highland Park, and the Erie Canal is a huge plus. Being close to many different places of worship has made Elmwood Manor a more diverse community than one might expect.
We've found Elmwood Manor to be a safe, tranquil, and diverse community with a great location, responsive service, and wonderful neighbors.
– Hannah and Stergios, 2017