Local & Handmade Holiday Gifts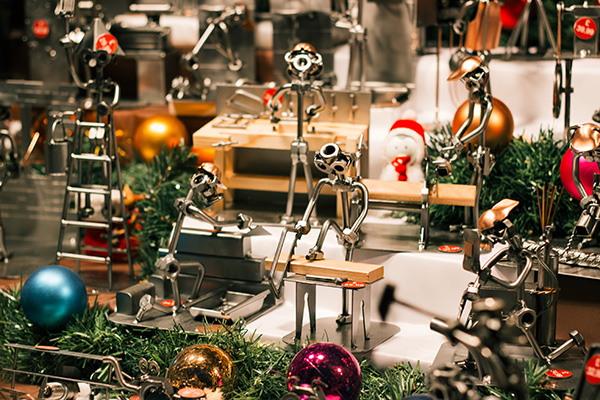 In a time when online holiday sales obliterate records every year, it can be easy for shopping to lose a sense of community. Rochester has a remarkably vibrant maker scene, however, and the holidays pose a valuable opportunity to explore local creations and support the artisans who make them. When you're in the market for more interesting, unique, and meaningful gifts, non-traditional shopping events like these are sure to deliver.
Holidays at the Hungerford – December 9th & 16th
For a few Saturdays in December, the Hungerford Building will open its doors from 10 am to 4 pm, giving Rochester shoppers the opportunity to stroll the halls in search of holiday treasures. This historic facility, a former soda factory, houses an impressive array of artists and craftspeople. If you've never explored the active artists' studios during a First Friday event, you'll be delighted and intrigued by the creative pursuits realized therein.
Brainery Holiday Bazaar – December 9th & 10th
The 5th-annual Holiday Bazaar at the Rochester Brainery, sponsored by Yelp Rochester, will feature 20+ unique vendors each day, for a total of more than 40. At this venue, there's sure to be an abundance of creative mastery on display. One highlight of the event will be a raffle of themed local gift baskets coordinated by Yelp Rochester. All proceeds will benefit CURE Childhood Cancer.
Mayday! Underground Crafts + Art – December 17th
Last Minute Mini Mayday! is a non-traditional craft shopping event coordinated by Mayday Underground Crafts + Art, which "offers shoppers a spectrum of items that put an unconventional spin on traditional art and craft." This particular event will feature 25 vendors offering jewelry, accessories, home decor, stuffed animals, shirts, pottery, art prints and more. Finish up your holiday shopping with this event focused on modern, hip, and trendy items that are completely handmade.