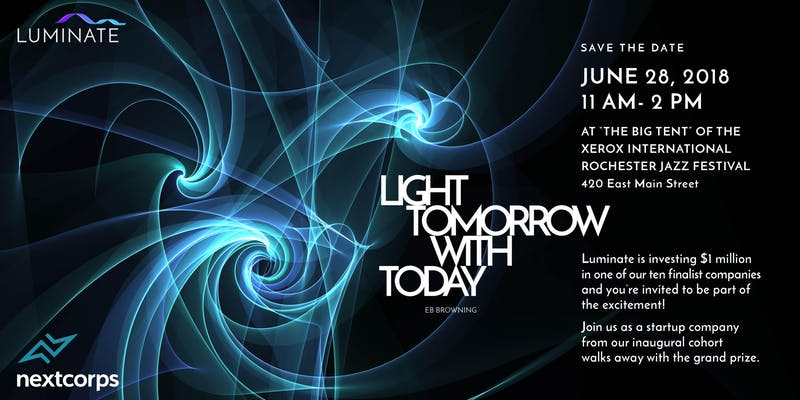 A Bright Future for New York State
Since Rochester, New York, is the imaging capital of the world and the nation's first photonics hub, it's only natural that the world's only international startup accelerator focused solely on next-generation optics, photonics, and imaging be located here. After all, these industries provided our region's foundation and feature prominently in the vision for its future. Luminate is bringing visionary entrepreneurs from around the globe together with market pioneers and qualified investors to manifest the future. The accelerator also provides early-stage companies with the capital necessary to further develop their technologies.
Light Tomorrow with Today
Light Tomorrow With Today is an event for Luminate NY taking place on June 28 from 11:30am-2pm in the Big Tent of the Xerox Rochester International Jazz Festival. This free event is the culmination of Luminate's inaugural competition for startups in the Optics, Photonics, and Imaging space. From hundreds of entries from around the world, ten finalists were selected to receive funds, mentoring, advice for securing venture capital, introductions to potential partners, and free space at the Sibley Building. The Light Tomorrow with Today event will give the public a chance to see presentations from the finalists in their efforts to be awarded a $1 million dollar investment. Attendees can enjoy food samples from local companies, food truck vendors, giveaways, and a jazz performance by Eastman School students.