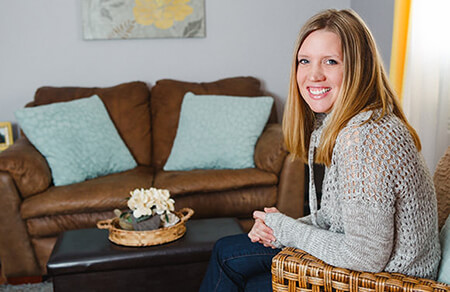 When I was 19, my first apartment ever was at Elmwood Manor, and I'm so happy that I decided to move back.
I've been in my studio for five years now, and I've really been able to make it my own. I love the peaceful atmosphere, the hardwood floors, and the layout.
After my first apartment, I spent some time living on Park Avenue, and now I'm thankful to be away from the noise and partying. I'm taking courses at MCC, and I really appreciate Elmwood's safe, quiet neighborhood – not to say there's nothing going on here. The location is amazing. I can literally walk to work, school, and Highland Park, and I can get everything I need at Twelve Corners or Pittsford Plaza.
Being close to everything helps save money on gas, and there are lots of other perks. The Resident VIP Program is the best! I use it all the time. It got me a $250 credit on my car at Bob Johnson! Heat, hot water, and Greenlight fiber optic internet service (such a fast connection!) are included in the rent, and my electric bill is always very low.
The people here are great as well. Maintenance is very responsive, and it's convenient to be able to submit requests online. The leasing office is terrific, too.
After five years, I'm still comfortable and happy right where I am. It's the perfect space for me, so I don't plan on leaving anytime soon!
– Sarah, 2017